Why you don't want to leave your family members with an electronic mess.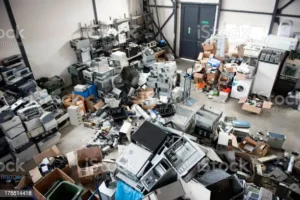 You don't want to leave an electronic mess for your family members.
Adapted by AEPA, Written by Forbes Magazine
Few things these days do more to increase the cost of and delay the time it takes to administer an estate than leaving an electronic mess for the executor and heirs to clean up. Yet, that's what numerous people do by not incorporating their digital assets and electronic lives in their estate plans.
Many people don't realize the extent of their electronic and digital lives and the potential problems they're leaving for others to deal with.
Estate planning law has mostly caught up to developments in technology, though it took longer than it should have in my opinion. Less than 10 years ago, providers of digital assets and services set their own policies on who was allowed access to a deceased person's digital life. To support their refusal to provide access or information to the estate or surviving family members, many providers cited a federal electronic privacy law making it a crime to access someone else's online accounts.
Now, most states have enacted a form of the Uniform Fiduciary Access to Digital Assets Act. Generally, the law allows an executor to manage computer files, web domains, and virtual currencies unless the will or other document specifically prohibits the access. All the executor has to do is provide proof that he or she is authorized to act as executor.
But the law doesn't allow the executor to access email, text messages, social media accounts, and other digital assets without express permission in a will, trust, power of attorney, or other legal document or court order.
You probably don't want your heirs to have to engage in legal battles for the right to access your various electronic assets or hire technology experts to crack them.
Your first step is to be clear in your will, trust, and power of attorney who should have access to and management ability over each of the digital assets and accounts. Without that express direction, there could be a lot of difficulty settling your estate, accessing assets, shutting off automatic payments, and taking other actions.
Some people divide access to the accounts. They want only a surviving spouse, other family member, or friend to have full access to personal items, such as email, social media, a cell phone, and perhaps other assets. That person can forward any relevant information to the executor.
The executor is given full electronic access to financial accounts and other assets and accounts needed to settle the estate.
Other people name an executor they are comfortable giving access to and control over all the electronic assets. Decide on the division, if any, that works best for you.
But that's only the first and easiest step in digital estate planning. There still will be a lot of problems for the executor or your heirs unless you take additional actions.
You need to create a detailed inventory of your digital life, and many people are surprised by how extensive this can be . Many time this inventory can be exhaustive.
A digital asset is any online account or service that is protected by log-in security. Obvious digital assets are email, social media, message board accounts, and subscriptions. Your computer, computer files, files you store on "cloud accounts," and any web domains you own also are digital assets. Online financial accounts of course are digital assets. A smart phone and all the apps and other items on it are digital assets. Medical records (EMR) are being digitized and accessible online, making them part of your digital estate.
Automatic payments are an often-forgotten item. Make a list of all automatic payments, whether they are deducted from a financial account, charged to a payment card, or paid through some other means. Remember that some payments are annual, so your list might not be complete after reviewing only one month's automatic payments. There are a number of hybrid assets, such as a brokerage account for which transactions can be made online, over the telephone, or in person. Hybrid assets should be included in your digital inventory if you have activated the online or telephone access.
Your executor and heirs need a complete compilation of all your digital assets and accounts, including all the items listed above and any others you can think of.
Start with your smart phone. This is important, because the best security policy now is to require two-factor authorization for online accounts. That means after entering the password, you have to enter a code that usually is sent in a text message to a cell phone. Most of your digital life won't be accessible without access to your phone.
Describe all the ways of accessing your smart phone. For many, the initial access is biometric (the use of finger prints or facial recognition). Be sure your phone has an alternative secure way of accessing it, such as a password. Give clear instructions in your digital asset inventory.
Both Apple and Google have legacy contact features ( someone you choose to have access to the data to your data after your death).  Facebook (now Meta) also has such a feature. Be sure to use these in addition to regular estate planning tools.
Many people are surprised to find out that they do not own most of the books, music, movies, and that "purchased" online and downloaded. You didn't really buy the assets. You bought only a license to use them, and the license usually expires upon your death. Most of the time, you can't bequeath them to survivors. But be sure the executor knows about them so recurring charges can be avoided.
For other digital assets, a good inventory lists the name and web address of each account or asset, and any account number. Include the full name that's on the account, whether it is your name, your spouse's name, both names, or a business name.
The inventory also should include all the information needed to gain online access, such as a username or personal ID and a password. If two-factor authentication is used, explain where the authentication is sent. Many digital accounts also have you answer security questions. Include these in the inventory. Add any other helpful information or comments to the inventory.
You might make everything easier on your survivors and on yourself by using a password manager. There are free password managers, such as Apple's iCloud Keychain and Google's Password Manager. The disadvantages of these are they tend to work best only with software and web browsers designed by the firms that created them.
The alternative is a full-featured, third-party password manager. These are developed by independent companies and work well with all or most software and platforms available. Each has an annual fee that typically is less than $50.
The disadvantage to these managers is that you have to go through a one-time process of entering all your current account information and passwords into the manager and enter the information for any new accounts you open.
When you use a password manager, you might get away with leaving the executor only the master password instead of all your passwords. (You'll still need to leave an inventory of all your accounts so the executor and family member know all the electronic assets they need to access and manage.)
If you want the executor to have access only to some digital assets and other people to have access to other assets, you might need to establish a separate master password for each of the different types of accounts or use different password managers for them. For more information like this go to www. Forbes.com